My monthly reading recap for July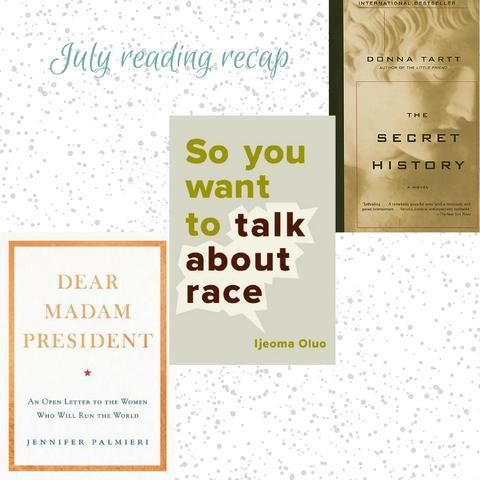 So you want to talk about race
 by Ijeoma Oluo is a book that I wish every white person would read, instead of asking a person of color on social media or your black friend to explain why they think something you did or said, or something you saw in the news was racist. Especially if you've ever caught yourself saying but I don't see color, I can't be racist because....., You're overreacting it's not about race, or even if you've thought things without letting them come out of your mouth. I hope this book is read in more book clubs, put on reading lists for high school and college students. My family might be Japanese and Native American but I walk through the world as a white woman and this book gave me ways to talk about race to my family and friends in a new way. She also does talk about racism towards Asian Americans, Native Americans and LatinX which I was happy to read about too. Yes there are parts of this book where you'll get uncomfortable and you'll want to argue and say but......but stop yourself and think about it for a little longer. One of the biggest takeaways is if any person of color tells your your actions or words are racist shut up and listen. Racism and white supremacy is so deeply rooted in American culture and history that there are lots of structures, systems, laws and so much more that are fundamentally rigged against POC. If you want to expand your mind on this and unlearn some of what we've all had ingrained in our minds add some books by POC to your reading list. (
Here's a 10 book list from Bustle.
Here's Bustle's list from last year with 17 choices.
) If you don't want to read or listen to an audiobook find some podcasts or even follow people on social media who are talking about. But please don't ask them to explain things to you. Google is your friend I promise. I could talk a lot more about this book and it's value to the world right now but it would be better if you just went and got a copy yourself. 
This month I also read
Dear Madam President
by Jennifer Palmieri a short little book that I would definitely recommend to high school and college age women to read and hopefully become inspired to get involved and help heal this country, and put it on a new track. Palmieri was the communication director for Clinton and Obama so she has loads of experience to draw on and share in this book. But I like the direction she took with this book trying to encourage our future leaders to keep thinking outside the box and to completely change the systems that obviously are just not working. It didn't come off as divisive or pessimistic and I am grateful for that.
Lastly I finished
The Secret History
by Donna Tartt for my book club meeting, this was quite a long book and it took a few twists and turns where I thought do I want to keep reading but I did. Tartt really writes beautifully I think and manages to write a story with characters who do awful things but somehow you still keep reading and hope things turn out ok for them in the end. The details and descriptions in her books are beautifully written even if at times you do find the style rambling on, I wanted to know what happened and where they all ended up. This was one where I think I would have preferred to read it myself rather than listening to the audiobook but I just have not carved out as much time to sit and read this summer as I would like. The voice of the narrator could get a bit grating, but I find that with quite a few audiobooks unfortunately. 
|
Posted on August 01 2018